Our approach to reading & phonics
Our Approach to Phonics
Progression in phonics skills and knowledge are taught following the recommendations of the Primary National Strategy "Letters and Sounds" programme using elements of the Phonics Play scheme to ensure a multi-sensory teaching approach.
All children in the Foundation Year and KS1 receive a 20 minute discrete phonics session 4 days a week. The children are taught in phase groups across each year group. The children's progress is regularly assessed and they move through the phases at their own pace.
As part of our phonic lessons at Stoneferry Primary, we teach the pronunciation of letters as they are said in words. It is tempting to add an extra 'uh' sound when pronouncing letters but this can be misleading for children.
Follow the link for some footage of the alphabet sounds being spoken correctly. We do appreciate your support with reading at home. This process is greatly enhanced if the methods used are consistent. Thank you for your interest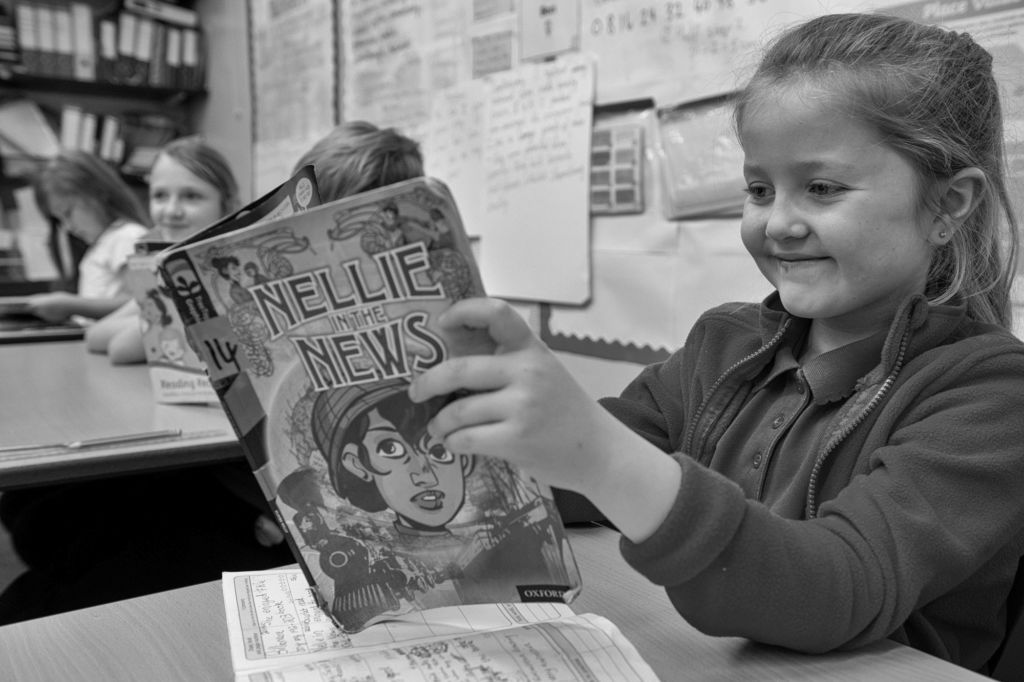 Our Approach to Reading
We operate a national recognised book banding system, incorporating books from the Oxford Reading Tree, Rigby Star and Collins. The bands allow for growth in progress and periods of consolidation. The children are aware of the book banding system and are very enthusiastic about moving through the colour bands.
The youngest children start exploring lilac reading books which are wordless which help to develop their understanding of how to handle a book, talk about it and introduces them to story language. They then start reading pink books which contain short sentences with commonly used words. The most able children further up the school move through the colours to the red band before becoming a 'free reader'.
We offer a range of fiction and non-fiction texts across all genres to give our children access to a variety of styles of writing. We also subscribe to children's magazines and newspapers.
As well as being given a home-school reading book, all children receive high quality reading opportunities in school through shared, independent, guided and whole-class reading activities.
Further information for parents
What is your favourite subject and why? –


"I love P.E. because I am a real sports person and enjoy being creative."
What is your favourite subject and why? –


"Maths because I love numbers and adding."
What is your favourite subject and why?


"Art because it calms me down and it's great fun."
What is your favourite subject and why?


"English because I love writing stories and poems."
What is your favourite subject and why?


"Topic and Art are my favourite lessons because they push me to my limits and are fun."
What is your favourite subject and why?


"Art because I like drawing and sometimes my work goes on the wall."
What is the best thing you have done in school?


"I love the school trips and when we go to the church to sing."
What is the best thing you have done in school?


"I enjoy the school trips to the museum so I can learn."
What is the best thing you have done in school?


"I really enjoy playing for the school football team."
What is the best thing you have done in school?


"Everything. I enjoy every single second of school."
What is the best thing you have done in school?


"The best thing I've done at school was going to William's Den and building my own den."
What do you like about the teachers?


"They tell jokes and help us learn."
What do you like about the teachers?


"They are helpful and kind."
What do you like about the teachers?


"They make me feel safe."
What would you say to a child who is worried about joining this school?


"We will look after you and help you."
What would you say to a child who is worried about joining this school?


"Be yourself. It's a great school and you'll fit in."
What would you say to a child who is worried about joining this school?


"Stoneferry is a friendly school."