Our approach to reading & phonics
Our Approach to Reading
At Stoneferry Primary, we place a huge emphasis on the importance of reading in all year groups. We want all children to be confident decoders and fluent readers by the end of Key Stage One (KS1) to enable them to access our Key Stage Two (KS2) curriculum.
Our strive for excellence and love of reading continues throughout KS2 were children are given the opportunities to read more demanding texts and discuss them openly as well as developing a broad vocabulary and continuing to develop their fluency and stamina in reading.
We want all our pupils to leave KS2 being fluent readers (across a wide range of texts) which enables them to access confidently the secondary curriculum and the broader aspects of everyday life.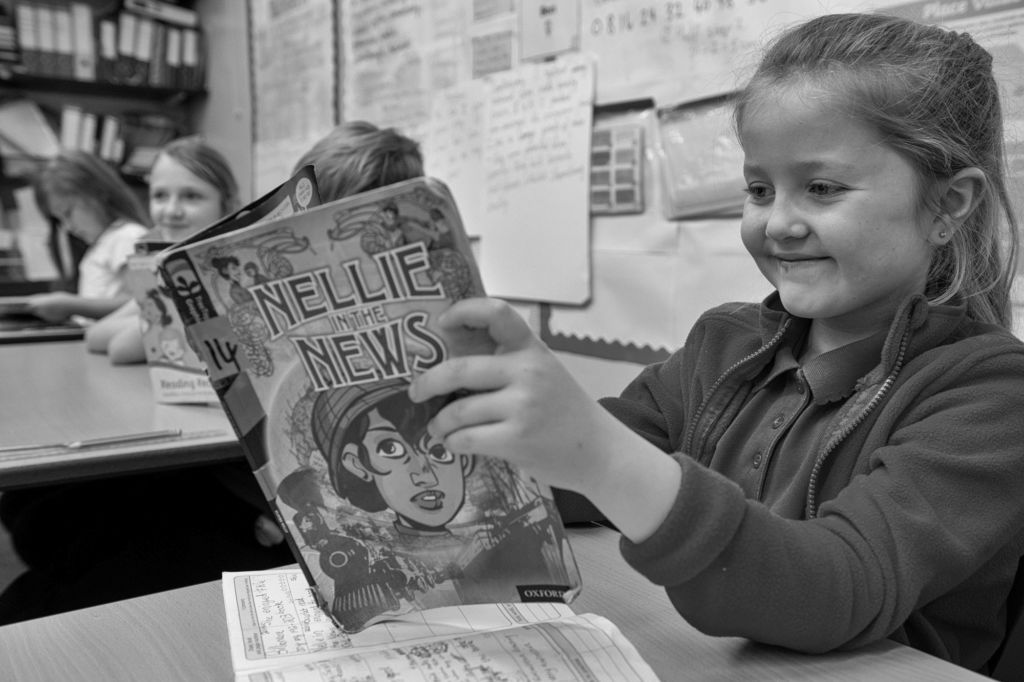 Phonics
Progression in phonics skills and knowledge are taught following the "Read Write Inc" (RWI) programme. RWI is a complete literacy programme which helps all children learn to read fluently and at speed so they can focus on developing their skills in comprehension, vocabulary and spelling. It teaches synthetic phonics, sight vocabulary, decoding and encoding words as well as spelling and accurate letter formation supported with regular handwriting sessions. The programme is designed for children aged 4-7. However, at Stoneferry Primary, we begin the programme in the Nursery and will continue teaching RWI to children beyond the age of 7 if they still need support in their reading.
Children in our Early Years Foundation Stage (EYFS) and KS1 will receive daily RWI lessons based on their phonic knowledge. This ensures that all children are taught the skills they require in order to become fluent readers. Lessons include a Speed Sound lesson, word reading time, story book time (guided reading) and an element of writing. Regular assessment takes place to ensure that children are grouped correctly and given sufficient challenge and support.
The following link for contains useful videos, an overview of RWI and free resources for parents to use at home.
https://home.oxfordowl.co.uk/reading/reading-schemes-oxford-levels/read-write-inc-phonics-guide/
Reading Books
Children who are working on the RWI programme take home a decodable reading book linked to the sounds they have been taught. This will be their "I can read this book". Alongside this, children also bring home a story book that they have chosen which is a book they can share with an adult or older sibling. This will be their "I can share this book".
In addition to creating a love of reading and giving a broader reading experience, we operate a nationally recognised book banding system for those pupils who have completed RWI. This incorporates well-known children's literature as well as books from the Oxford Reading Tree, Rigby Star, Collins and Rising Stars. The bands allow for growth in progress and periods of consolidation. The children are aware of the book banding system and are very enthusiastic about moving through the colour bands. The most able children further up the school move through the colours to the dark red band before becoming a 'free reader'.
We offer a range of fiction and non-fiction texts across all genres to give our children access to a variety of styles of writing.
As well as being given reading books to take home, all children receive high quality reading opportunities in school through shared, independent, guided and whole-class reading activities. Again, texts in these lessons are closely matched to each child's reading ability.
Support
Children who require extra support in phonics and reading (for example those who do not achieve the standard of the Phonics Screening Check in Year One) are offered additional help with their reading through small steps planning in the classroom, short intervention sessions, 1:1 tutoring or the RWI Fresh Start package delivered by teaching assistants.
Further information for parents
What is the best thing you have done in school?


"I enjoy the school trips to the museum so I can learn."
What would you say to a child who is worried about joining this school?


"Be yourself. It's a great school and you'll fit in."
What is your favourite subject and why?


"English because I love writing stories and poems."
What is the best thing you have done in school?


"I love the school trips and when we go to the church to sing."
What is your favourite subject and why?


"Art because it calms me down and it's great fun."
What is your favourite subject and why?


"Art because I like drawing and sometimes my work goes on the wall."
What is the best thing you have done in school?


"I really enjoy playing for the school football team."
What is the best thing you have done in school?


"Everything. I enjoy every single second of school."
What do you like about the teachers?


"They are helpful and kind."
What is your favourite subject and why? –


"Maths because I love numbers and adding."
What do you like about the teachers?


"They tell jokes and help us learn."
What is your favourite subject and why? –


"I love P.E. because I am a real sports person and enjoy being creative."
What would you say to a child who is worried about joining this school?


"We will look after you and help you."
What would you say to a child who is worried about joining this school?


"Stoneferry is a friendly school."
What is your favourite subject and why?


"Topic and Art are my favourite lessons because they push me to my limits and are fun."
What do you like about the teachers?


"They make me feel safe."
What is the best thing you have done in school?


"The best thing I've done at school was going to William's Den and building my own den."